MID-APPALACHIAN FALL 2019 MEET—NEWVILLE PA
SEPTEMBER 20 –22, 2019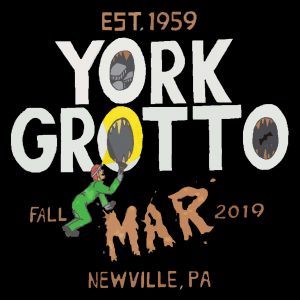 The Fall MAR is hosted by the York Grotto in celebration of its 60th anniversary.
Location:      Newville Lions Club Fairgrounds
437 Shippensburg Road (Pa Route 533)
Newville, PA
Take Exit 37 on I-81, West on Rte 233 towards Newville, Turn Left onto Pa 533 as you enter Newville (do NOT take Greenspring Rd, Rte 641). Fairgrounds is about 1 mile west of town, on the left.
THIS IS A BYOB EVENT. BEER WILL NOT BE PROVIDED. ALCOHOL IS ALLOWED ON THE FAIRGROUNDS (ignore the signs).
On-line Pre-Registration Closed on September 6.

Included in Pre-Registration: Saturday Continental Breakfast; Saturday BBQ Chicken dinner; soft drinks and water; entertaining presentations and Door Prizes following dinner.    The PCC will be offering the Sunday breakfast for an additional fee at the door.
AT-THE-DOOR REGISTRATION opens at noon Friday and is $40.00 for Adults, $20.00 for Children (under 18), and Free for Kids (Under 8)
Because of the need to order a correct number of chickens in advance, dinner cannot be guaranteed for at-the-door registrants, although we will make every effort to do so.
T-SHIRTS ARE EXTRA. Order with Pre-Registration above. Cost is $16.
A limited number of T-shirts will be available for sale at the event for a higher price.  See design above, please include size in the notes with your registration.
CAMPING: The Fairgrounds has primitive camping; no hookups, no electric, but there is parking for RVs. Motels are available in Shippensburg, about 8 miles away.
Indoor toilet facilities as well as porta-johns will be available.
Gear washing (not decon level) will be available.
Fires are allowed, with appropriate restraint and precautions.
Dogs are allowed; please be able to clean up after them.
Alcohol is allowed (ignore the Fairground signs to the contrary), but is BYO.
CAVING: Many caving trips are being planned, including WV Panhandle caves Silers and Cricket Maze. A Guidebook will be provided. Several trips are "led" trips to sensitive caves and limited in number. Signup sheets for these trips will be available starting Friday afternoon.
Presentations:  Caves and earthquake risks in Appalachia and PA by Dr. Meyer
Caves of Kyrgyzstan and Tajikistan by Mike Shank and Andy/Mindy Filer
OTHER ACTIVITIES: Local Rail-to-trail hiking and bicycling; canoeing nearby. A list of other local activities will be available on-site.
SPECIAL ATTRACTION: SILENT AUCTION
Interested in the history of caving? The York Grotto is pruning its extensive collection of caving publications amassed by Dale Ibberson over many years. Old (1950's–1980's) NSS News's, Bulletins, Speleo-Digests and other pubs will be available for bidding.
More info: Contact Randy Hurst rghurst@comcast.net or 717 575-6389